Born and raised in a cozy little town a few miles away from the coast, I have a peculiar sense towards the taste of ocean.
I heard about the news that Masuda Rei – the disciple of Jiro Ono – was planning on opening a sushi restaurant Shoku-tei Sushi in Shenzhen China. But I thought that I wouldn't have the chance to give a try since the pandemic had been hovering around.
The first sushi restaurant supervised by Masuda Rei in mainland China still managed to unveil in Shenzhen in June earlier this year. For the new establishment, Chef Masuda Rei has entrusted two of his well-established disciples, Koguchi Shiro and Ishida Kazuhiro with the task of being the resident chefs. They both moved to China before the outbreak of the pandemic.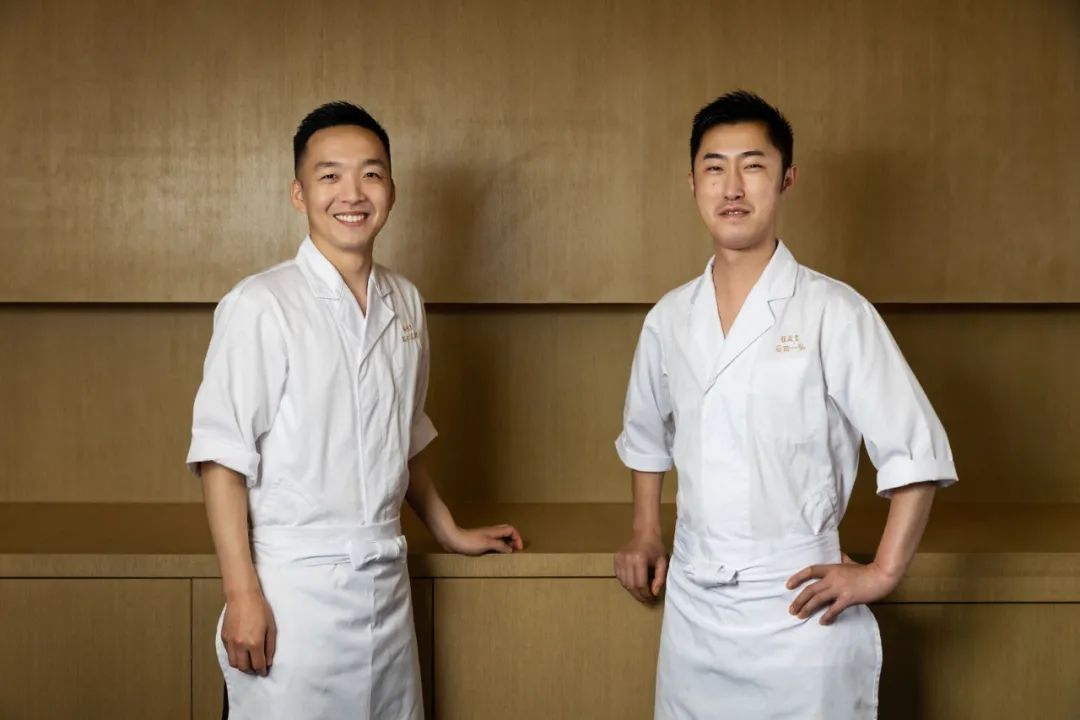 Koguchi Shiro(left) , Ishida Kazuhiro(right)
Chef Koguchi Shiro is from Fukuoka, Japan and is fluent in Chinese. He believes that the essence and personality of sushi lies in the acidity and hardness of its rice. When you put good Shari (sushi rice) into your mouth, it will stimulate and bring out all the hidden flavors of the fish. To enrich the sushi menu, the two resident chefs focus on the temperature and cooking methods. Besides, the menu will be completed by a range of food and beverage as the season changes.
Koguchi Shiro started his career in cooking at the age of 16 and was trained to become a professional sushi chef at Koutaro, a sushi restaurant in his hometown. In 2008 he got a chance to work in a well-known restaurant named Takadama in Kyushu Island. After four years of rigorous training, he was invited by his senior fellow apprentice to leave Japan and start his own business (Komodo restaurant) in Taipei.
Soon after he joined the renowned Hide Yamamoto in Macau that he encountered Masuda Rei, who strongly insisted that he joined the opening of the restaurant Sushi Wakon at the Peninsula Hotels in Tokyo. Two years later, he was entrusted to work with Ishida Kazuhiro in Shenzhen.
I asked Shiro what made up his mind to follow Masuda Rei. He said: "Master Rei was trained under Jiro Ono. He had his own sushi restaurant and had won two Michelin stars. That was something that I did not have. I was really eager to learn everything from him."
Author and Masuda Rei
In 2014 after nine year's apprenticeship under Jiro Ono, Masuda Rei opened his own sushi restaurant in Aoyama which I visited three times.
Masuda looks very grateful to be praised by Master Jiro for "excellent seasoning". Jiro is already in his nineties and I visited his place several times. Masuda talked frankly about the tension he felt every time he presents his sushi to Master Jiro. He also mentioned that he is a hard-working trainee and he would go to Tsukiji for fresh fish at 6 o'clock every morning. The ingredients used in Shoku-tei Sushi are freshly sourced from Japan every day.
The restaurant has only 10 seats at the sushi counter. The aesthetic design draws inspirations from Song dynasty literati Su Dongpo's comment on Chinese poet Tao Yuanming's poems:"The reason why we value the dry and bland is that, if the outside is sere, the inside will be lush". The unique design creates a relaxing environment with tranquil atmosphere. The entrance is extended by traditional water features mixed with stone and flower landscaping. The main dining area is oriental focused and makes use of 100-year-old Japanese cypress, eight-meter-long silk lanterns and straw textured walls. The use and combination of these different materials and play of lights and shadows creates a simple and beautiful atmosphere with abundant elements so that guests can fully enjoy pure sushi culture at its best.
Carrying on Jiro's style, Shoku-tei Sushi carefully selects hard sushi rice with acid flavor and has it cooked to exact temperature, keeping the original Edo Mae flavor without compromise. Its seasonal dishes such as straw smoked skipjack, vinegar-cured Kohada fish, fresh and sweet cockles are among the most known ingredients that Jiro liked to use.
Not like Jiro, Masuda takes a modern and versatile approach. His appetizers feature wine-steamed dry snapper and the juicy and tender Shio Saury, which just won't let the chopsticks stop.
Shoku-tei's menu differs every day as it changes ingredients used according to the reservation status for the next day, and most importantly according to what the season may offer. The menu is mostly decided by Shiro. Shoku-tei's source of fish is almost the same as that of the Tokyo store.
Special menu for the day
The first dish was already amazing. The Kobako Crab (female snow crab) from Fukui Prefecture carries bright orange eggs at this time of the year. The crab was boiled first and then grilled, after which its meat was picked out to be seasoned with sauce and intricately put back to the shell. This whole process is very time-consuming and requires hours of care and patience. The taste was superb. I must have closed my eyes to really enjoy this one.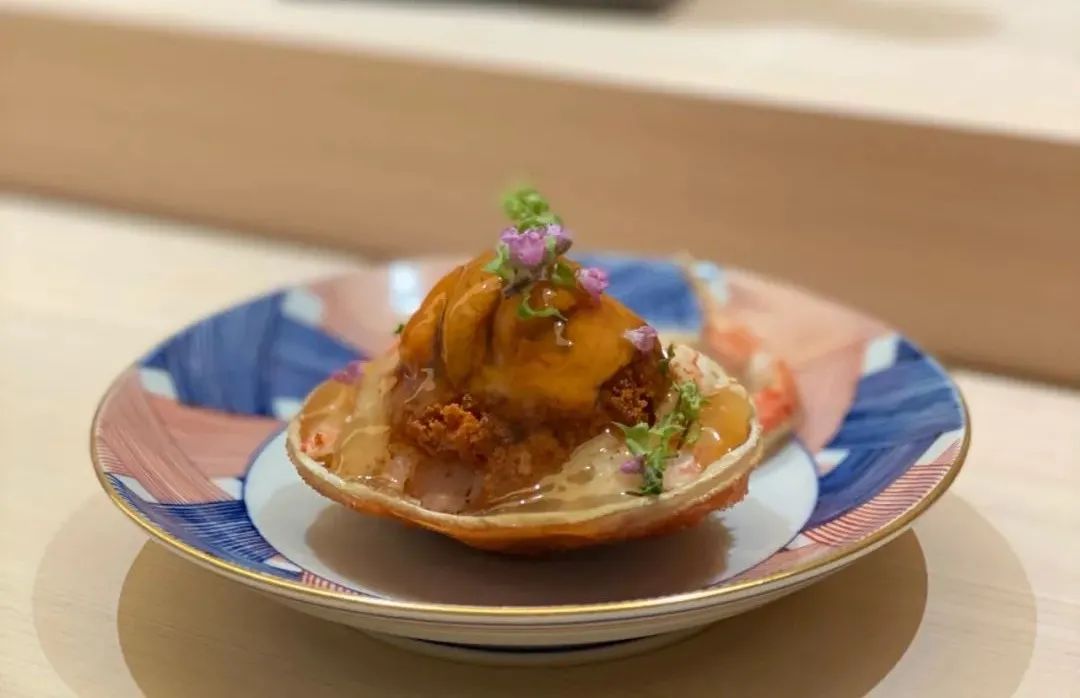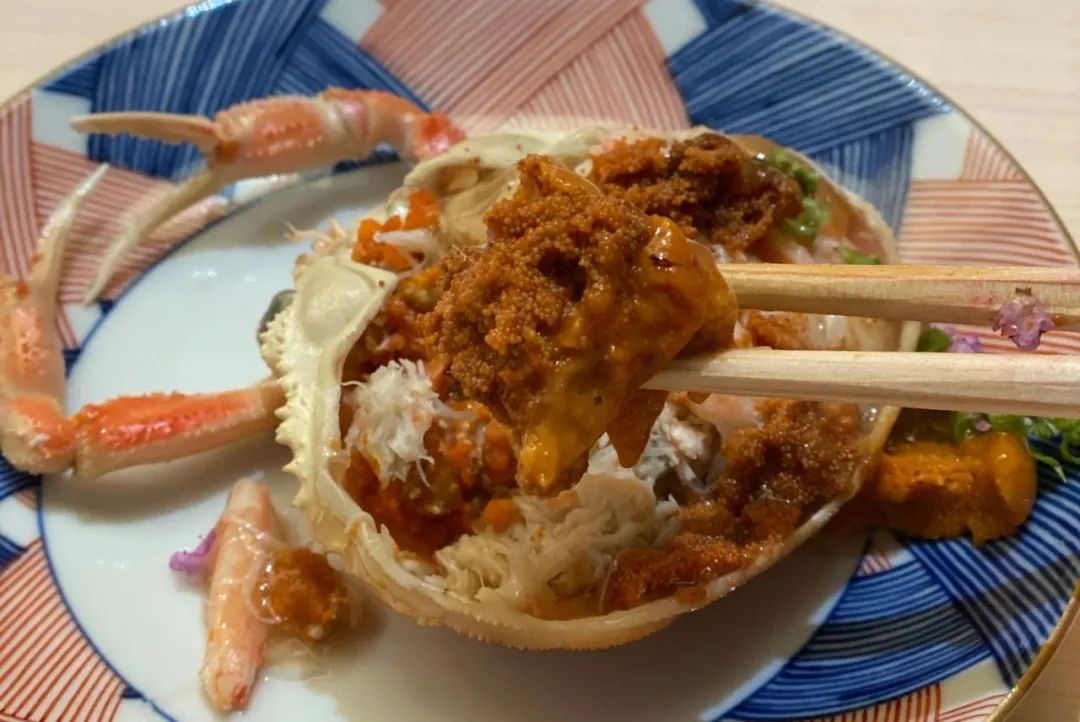 Kobako Crab
The second dish was the home-made Karasumi (mullet roe). The Japanese name draws origin from its shape similar to the Chinese ink, thus the name Karasumi (meaning ink from the Tang Dynasty). Caviar, foie gras and mullet roe are the world's top three delicacies for the Japanese people. Now it's not hard to understand why the mullet roe is considered as precious as a gem.
The Miyazaki-sourced raw mullet roes were carefully rinsed off blood, immersed in water and pre-salted before marinated in Japanese wine mix of a secret recipe. The final step is let it dry for one to two weeks. According to Shiro, drying is the most important step as the final presentation is determined by the degree of moisture which largely relies on the control of the drying time. It is all about experience. The delicacy was served half-raw.
The golden mullet roes were lustrous with individual roe holding densely together. The fat sat balanced and distributed, complementing the soft texture. When the natural savory taste of the ocean melted in the mouth, take a bite of the roasted rice cakes and crispy premium seaweed and feel the three bringing out the best of each other, leaving a aftertaste that you would remember for the rest of your life.
Home-made Karasumi
Sushi plates offer Kinmedai (Splendid Alfonsino). The sweet and fatty fish melted the instant it entered my mouth, stroking a perfectly-balanced note with the sour sushi rice.
I have always missed the cuttlefish from Shoku-tei Sushi. The perfect thickness was made possible by nuanced slicing techniques. They were slightly cooked to retain hardness but with tenderness as well. The mixture of sea salt on the cuttlefish and the sour rice had me literally close my eyes.
Then the rest of sushi dishes were served according to the guest's tempo. Yellowfish and Scallops were just in season and sweet with a sharp bite. Kohada and tuna mid-belly were included in the totality of ten sushi pieces. Served one after another, this set of sushi dishes was an absolutely stunning treat that surprised me from beginning to the end.
The grilled Mehikari (twinkling eyes fish) is almost the perfect copy of its original Tokyo making. Transported from Aichi Prefecture, the ingredient fish was salted and let dry for one day to control the moisture content of the meat and skin, and then chargrilled. The chef in charge of grilling the fish was an experienced professional. The fish skin was just about crispy on the outside but the meat inside was still soft and juicy. A must-eat quality dish I would say.
Grilled Mehikari from Masuda(above) and Shoku-tei Sushi(below)
My love also went to the representative Edo Mae dish, the conger eel. The sweet and creamy texture was complimented with a special-made heritage sauce, exuding precise sweetness and tangy Umami flavour.
You probably have seen sushi apprentices crying over ruined omelettes in the movie Jiro Dreams of Sushi. The ever-hailed Tamagoyaki was also available at Shoku-tei Sushi in Shenzhen. It served to draw a perfect ending to this tasty venture with spongy texture and rich eggy flavour.
Jiro's menu does not include desserts, but Shoku-tei Sushi's menu provides tamagoyaki with reduce sweetness to prelude the real desserts.
Shoku-tei adopts Jiro's tamagoyaki recipe of mixed shrimp, egg, Chinese yam, and slowly pan-fries the egg fluids for about an hour to give it that fantastic golden hue. The whole process takes about 2 to 3 hours, so only 24 pieces are allowed to make at a time. Shiro used to say that he didn't like when customers wanted to order more tamagoyaki (I was one of them) since there was none left just because the making of tamagoyaki is extremely time-consuming.
Koguchi Shiro has been working and living in Shenzhen for almost a year, before which he worked in Taipei and Macau for three years. He was invited to perform his sushi art in Hong Kong while working at Sushi Wakon at the Peninsula Hotels in Tokyo. When asked about his impression of the city Shenzhen, he said: "Compared with other places, Shenzhen is a place with great potential for Japanese cuisine as the city's young people have high acceptance of various cuisine worldwide. There is no adaptation problems here."
Koguchi Shiro sees Shoku-tei Sushi as the maker of authentic Edo Mae sushi, as it does not compromise on its unique way of sushi making with customers' preferences. Edo Mae sushi should strive to preserve its traditions. Shiro said he had confidence to replicate Edo Mae style. Protecting Edo Mae sushi is protecting the origin.
Shiro described his partner Ishida Kazuhiro as a craftsman with 30 years of culinary practice, a trustworthy person whom he could always turn to when he had problems. Shiro discusses the menu of the day with Ishida as the ingredients arrive at the doorstep everyday.
Chef Ishida Kazuhiro, who has previously worked at Ginza Kyubey, one of the three benchmarks in Japanese sushi industry, hopes that through his extensive sushi experience, he is able to present authentic delicacies through a combination of natural and man-made flavors using careful and thoughtful ingredient selection, rice cooking excellence and exquisite hand grip and rice ball molding skills.
Having been through difficult times in the initial phases, Shiiro shared that he would always try to explain with simple language but with detailed information for guests who previously had little knowledge about Edo Mae Sushi.
When asked about the person who influenced him most, Shiro mentioned a name which is probably among Japan's most renowned sushi chefs: the sushi head of Kikuzushi, Yusuke Seguchi.
Yusuke Seguchi is the second generation master sushi chef at the famous Kikuzushi restaurant located in Fukuoka, Kyushu. Before returning to his hometown to take on his family business, Yusuke Seguchi spent ten years training in a long-established sushi restaurant in Hakata, and then went to Monaco to work as the deputy chef of a five-star hotel, mainly in charge of sushi instructions. During that period, he worked with world famous chefs including Alain Ducasse and Joel Robuchon to cater for the Monaco royal wedding.
Yusuke Seguchi@city.kasuga.fukuoka.jp
Shiro had chance helping hands in Kikuzushi for a short while during his early days as a trainee. Chef Seguchi was a senior sushi chef originally admired by Shiro at that time. Working together with celebrity chefs on the world stage and harnessing the sushi-making skills were everything Jiro aspired for. Having thought about this, Shiro made up his mind going the extra mile and pursuing a greater career in sushi craft.
When asked about if there was anything that has left strong impression in his culinary career, Shiro mentioned a funny experience when the baseball star Wang Zhenzhi (very popular in Japan and Taiwan) walked into the sushi restaurant where he was trained in Takadama. Shiro said the nervous, inexperienced period has always been on his mind.
Experienced and sophisticated as he is now, Shiro said with a gentle smile that "nothing gives me nerves now".
Shoku-tei Sushi
📍One Avenue Central Street N137, 1/F,
2005, Shennan Road, Futian District, Shenzhen
☎ 0755-23941378
转载或其他合作事宜
请联系微信号:tastytrip2020
---
欢迎关注
微博:TastyTrip
Instagram:_tastytrip_