I often hear comments that Chengdu may be the next Michelin city. If it's true, then this city truly fits the bill.
Every time I visit, I don't want to leave. Chengdu is a city full of energy, charm and style. The whole city is laidback and elegant, with the people of Chengdu softly spoken and happy. I have always liked the environment and the people there. In June, I spent four days in Chengdu with Ms. Zhou Zi Ling, founder of Chengdu Yintan Catering Co., Ltd. Zhou Zi Ling is local and a successful entrepreneur. Yintan Group is well-known in Chengdu's catering industry also for its high-quality ingredients.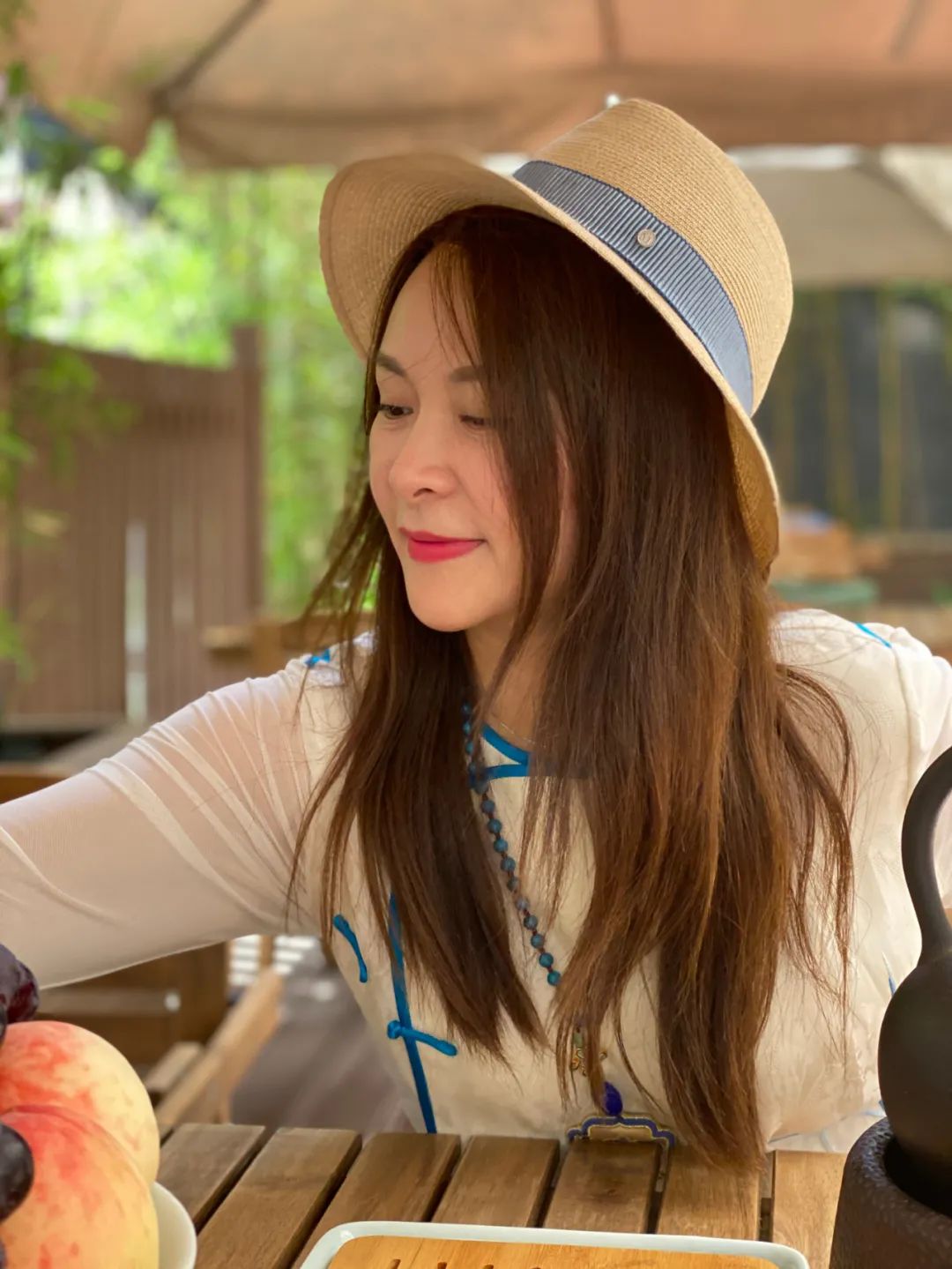 Ms. Zhou Zi Ling, founder of Chengdu Yintan Catering Co., Ltd.
Traditional Sichuan Cuisine
Once we arrived in Chengdu, we drove directly to the Hidden Place, which features traditional Sichuan cuisine. This was my third visit and business is always booming during the evenings, with the majority of diners being locals. I was informed that if you wish to book a private room you would need to make a reservation at least 3 to 4 days in advance. The chef of the Hidden Place recreates Zhou Zi Ling's childhood memories of Sichuan cuisine, and invited Chinese culinary master Peng Zi Yu, a leading figure of Sichuanese cuisine to create the recipes.
Zi Ling said that the poached pork slices with garlic sauce in Hidden Place uses Iberian pigs and selected its pork butt roast. Only that part of the pig can be used to make this dish and give it its strong unique flavoring.
Chef Liu Bo Quan of Hidden Place said the pork butt roast is the first choice raw material for Sichuanese twice-cooked pork. In fact, it specifically refers to the native pigs that are raised freely by farmers. Alternative feed for pigs nowadays tends to produce lean meat. To make twice-cooked pork, lean-to-fat ratio typically needs to be 40% fat and 60% lean, but with current pigs raised being more lean, you would have to cut off some of the lean meat so that the ratio becomes 40% and 60% respectively, therefore the use of pork belly is more suitable to meet these requirements.
Poached pork slices with garlic sauce
Last time I went to Chengdu, I was fortunate enough to meet Sichuanese cuisine master Peng Ziyu, and Chengdu Daily Food Editor Liu Deyue. I enjoyed hearing them talk about food during dinner, and also learnt a lot from Zi Ling who treated us for the dinner. In addition to having a deeper understanding of Chengdu's food culture, I also saw the infinite possibilities of urban cuisine.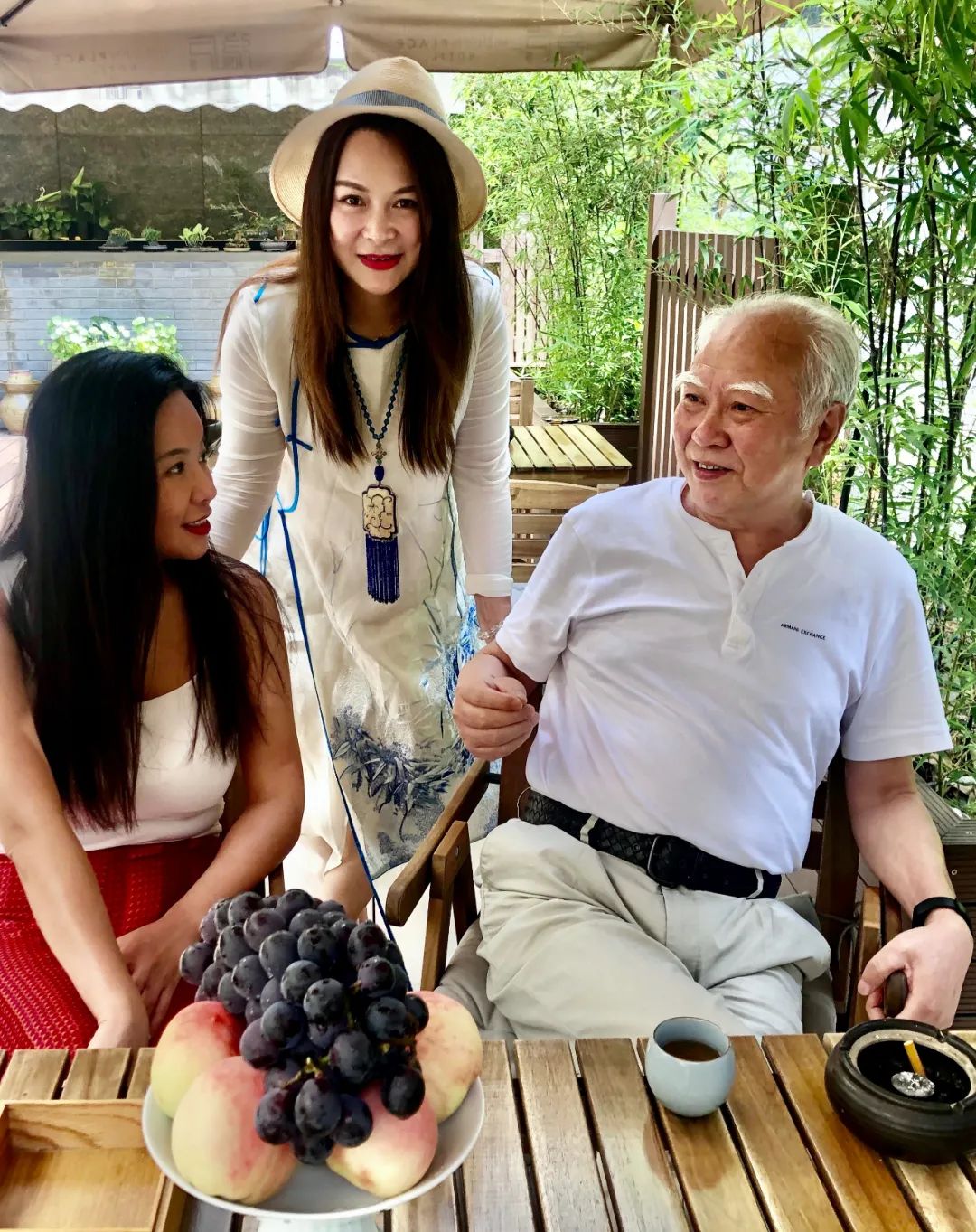 Jocelyn Chen(left), Zhou Ziling(middle), Peng Ziyu(right)
Jocelyn(left), Liu Deyue(right)
A detour visit of Yuzhilan Chengdu
Sichuan cuisine is usually stereotyped as being spicy, but in fact that is far from the truth, it is actually rather diverse. Cooking methods and preparation of Sichuan cuisine whether it be from past or present has a rooted DNA of one that is graceful and elegant. The spiciness of Sichuan cuisine is also beautiful and temperate and enhances your taste buds. Dishes may look spicy but in fact it is not at all. It's not simple deformed popularized food. Because I have been working with Sichuanese restaurant for about two years, I feel I have grasped a basic understanding of the cuisine and have learnt even more during this trip. I finally understand master Lan Guijun of Yu Zhi Lan's culinary concept that "cuisine is both national and international ".
I was impressed by the diced pork in pot, which included abalone and other delicacies from the sea, but is still mainly a meat dish. It reminded me of Fuzhou's Buddha Jumps Over the Wall which comprises of steamed abalone with shark fin and fish maw in broth. The taste is rich and layered. The soup is flavorsome with the essence of all the ingredients and the meat cooked perfectly. The diced pork in pot is first simmered with old hen, old duck, ham, spare ribs, and quail eggs, slowly over a low fire for eight hours. To finish, a small piece of pork belly completes the essence of the ingredients which are all absorbed by the pork belly to preserve the rich taste and flavors.
Diced pork in pot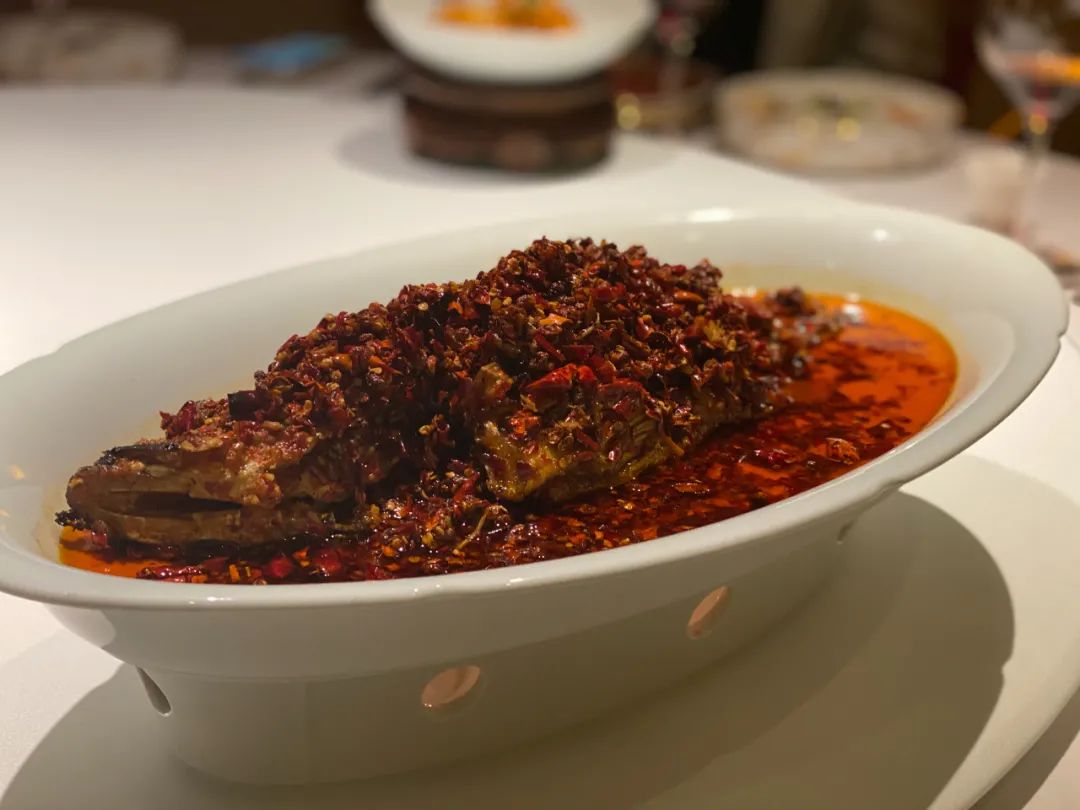 Quick fry mandarin fish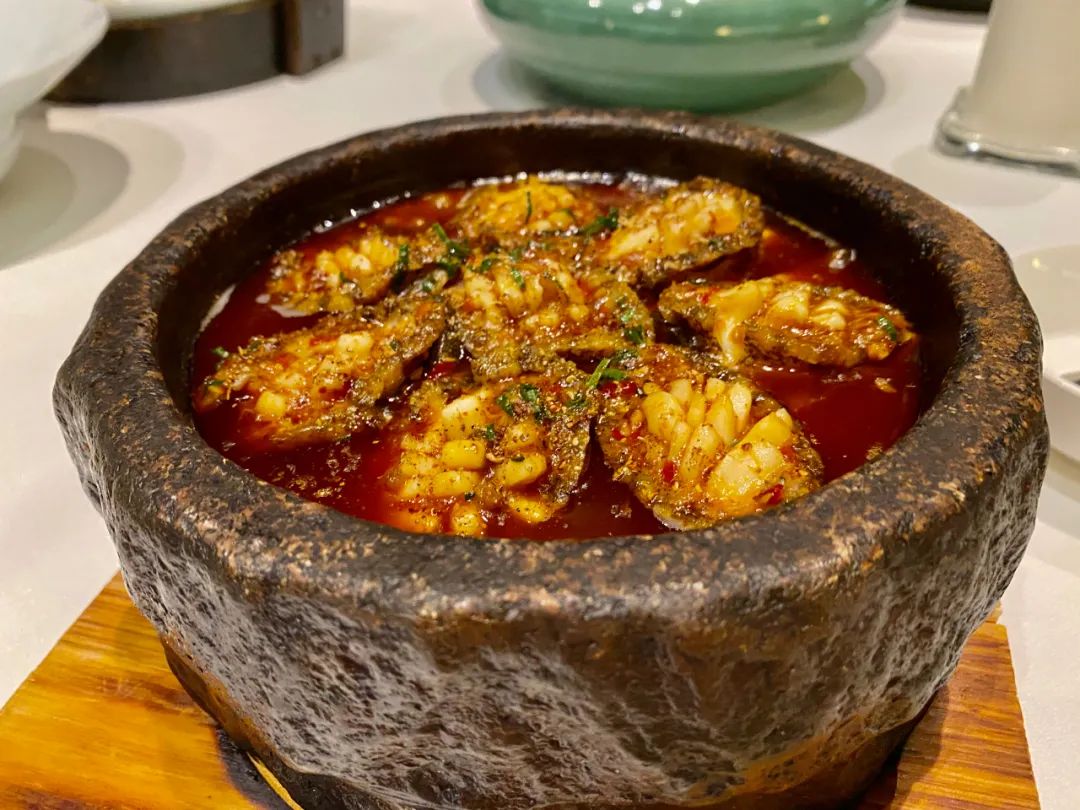 Mapo tofu with abalone
Another dish was quick fry mandarin fish, which tasted fragrant but not spicy, and had different layers of aroma and spiciness. This dish broke my usual impression of Sichuan cuisine. It turns out that the popularized food that I ate in the past was so numb and spicy. Real Chengdu cuisine is actually elegant and hierarchical, with more emphasis on knife skills and meticulous craftsmanship. The Hidden Place is definitely a leading figure of the industry.
Ruyi Gastronomy : 9th Edition
The second day, we arrived at a French gourmet event titled "Ruyi Gastronomy : 9th Edition," which was co-operated by Legle France and Xu Jia Cai. Each Ruyi gastronomy event has a theme, with this time called "Twenty-four Flavors of Sichuan Cuisine." Sichuan cuisine has always had the reputation of " one dish with one flavor, with one hundred dishes come hundred flavors.
The Ruyi gastronomy event successfully conveys the 24 flavors of Sichuan cuisine through its cooking and expert explanations. We originally expected the event to focus more on the tableware, rather than that of cooking. Surprisingly we were proved wrong and treated with a wonderful and in-depth explanation of each dish by the service staff, with use of beautiful Chinese auspicious words which created a great dining atmosphere as if it was new year. The start of the evening introduced us to the Five Fortune Takeaway Platter which comprised of five cold appetizers with flavors ranging from light to strong that gives an introduction into the different flavor types of Sichuan food. Starting from the tangerine peel and beef, then a mustard flavor with red oil, and sesame sauce on the right hand side, and finally finished with a pickled pepper flavor to clear the mouth. At the end of the tasting, you can see a small goldfish on the bottom of the plate, which we were told symbolizes prosperity forever.
Five fortune takeaway platter
Chicken cloud in supreme consommé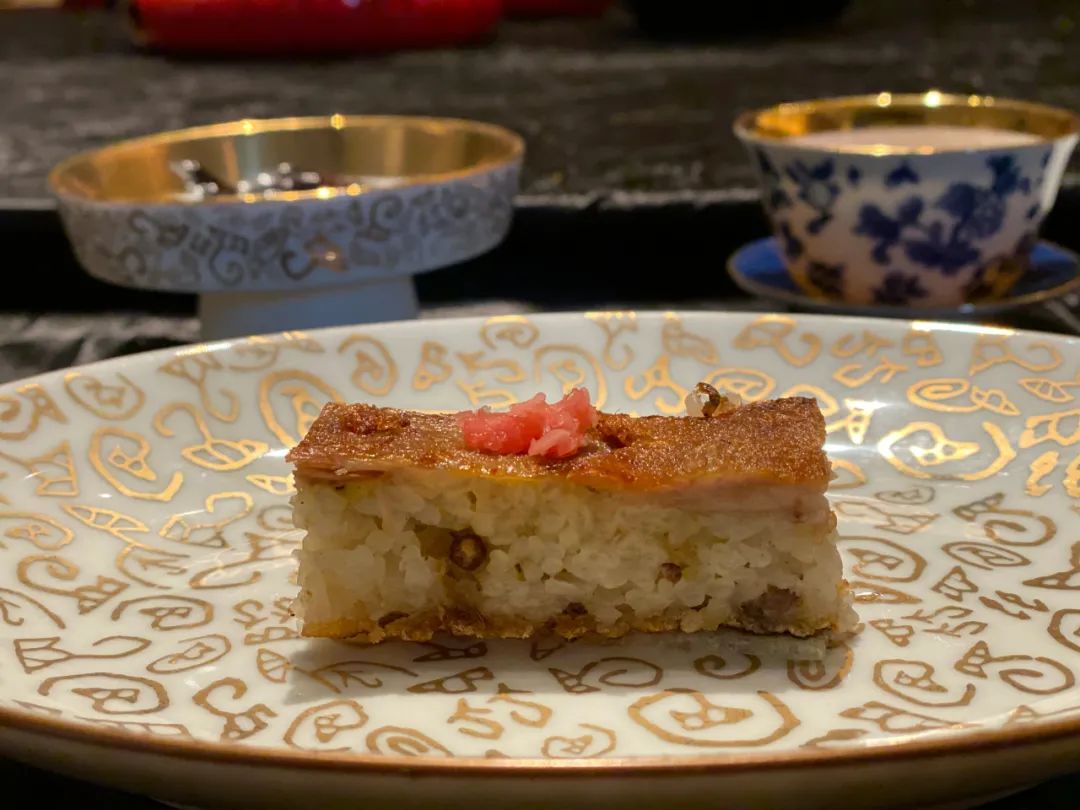 Smoked duck with glutinous rice
The temperature of every dish at Ruyi Gastronomy event was perfect. For example, the Chicken Cloud ln Supreme Consommé, which is a type of clear soup made from richly flavored stock comprising of chickpeas stew made with chicken breast and egg white is of the highest culinary level. You are able to taste the chicken whilst not actually being able to see it. Rather it is presented in a tofu like manner with the meat rendered in its lightest form to highlight its savory umami flavor. With a history of more than 100 years, this dish proves to be best of the best."
The stewed snow lotus with Ge Xian Rice was also fascinating, It is a fungus produced in Hefeng, Hubei province. It is said to have various beneficial effects such as improving eyesight and nourishing the liver. It is stewed with snow lotus seeds and added with honey. We are told that: "Chinese people's eating habits are different from those in the West. We don't talk so much about whether the food is good or not. Food not only has to satisfy our appetite, but also has to pay attention to whether the food can protect our body. This is one of the advantages of Chinese chefs. "The design of the menu and the balance of the event are all made by the master chef. Each set of dishes are brought out in unison and in one go. Having written this, I feel I will definitely visit again.
Chengdu gourmet Liu Deyue said that Ruiyi Banquet emphasized the art of fine dining that dates back to the Tang Dynasty at a time when tableware is deeply connected. It perfectly highlights the beauty of Sichuan cuisine and its impact on both past to present. He gave a very positive evaluation that the dishes are designed by people who have seen the world and have an international outlook.
The founder of the RUYI Gastronomy event, Desmond, CEO of Legle, is a successful entrepreneur and a senior gourmet. He has tasted many dishes from many cultures from around the world which has helped in his ability to analyze food, together with his partner chef Chen Lanshu, best female chef Asia 2014. They make a lovely couple. It turns out that this gastronomy event comes from a creation of love. Currently there are only three private rooms available at RUYI Gastronomy, which needs to be booked one week in advance. For any food lovers, chefs, or restaurant owners who want to further understand the concepts and workings of Sichuan cuisine, RUIYI Gastronomy provides the perfect place to start.
Sichuan pepper autumn feast uses the famous "Hanyuan pepper", which has been titled as the "King of Sichuan pepper. "The color is purple and red, large in size, thick in meat, rich in oil, with a strong aroma, and has a tingling numbness which is well-known throughout the country.
We were invited to participate in the Sichuan pepper autumn feast hosted by Yintan Group owner Zhou Zi Ling at Silver Pot Restaurant. Every time when the Sichuan pepper is mature, Zhou Zi Ling will personally lead the team to visit the mountains of Hanyuan, looking for the most prestigious Sichuan pepper. Once the Sichuan pepper has been collected, it is refined into Sichuan pepper oil within eight hours of harvest. At the beginning of the dinner, Zi Ling said: "Bean sauce is the soul of Sichuan cuisine, and Sichuan pepper is the essential first ingredient for Sichuan cuisine. The essence of Sichuan cuisine is not only multi-layered but also well-balanced."
The theme of Sichuan pepper autumn feast revolves around Sichuan peppercorns and uses modern Sichuan cuisine to interpret the beauty of the Sichuan pepper. In addition to highlighting the color and fragrance, the feast seeks to add a fourth sensory element to the traditional three. This includes: smell, taste, vision, and an additional immersive aroma & taste combination of the Sichuan pepper. To experience these top Sichuan peppers, each guest has to follow certain procedures such as smelling the fragrance and taste testing of each Sichuan pepper.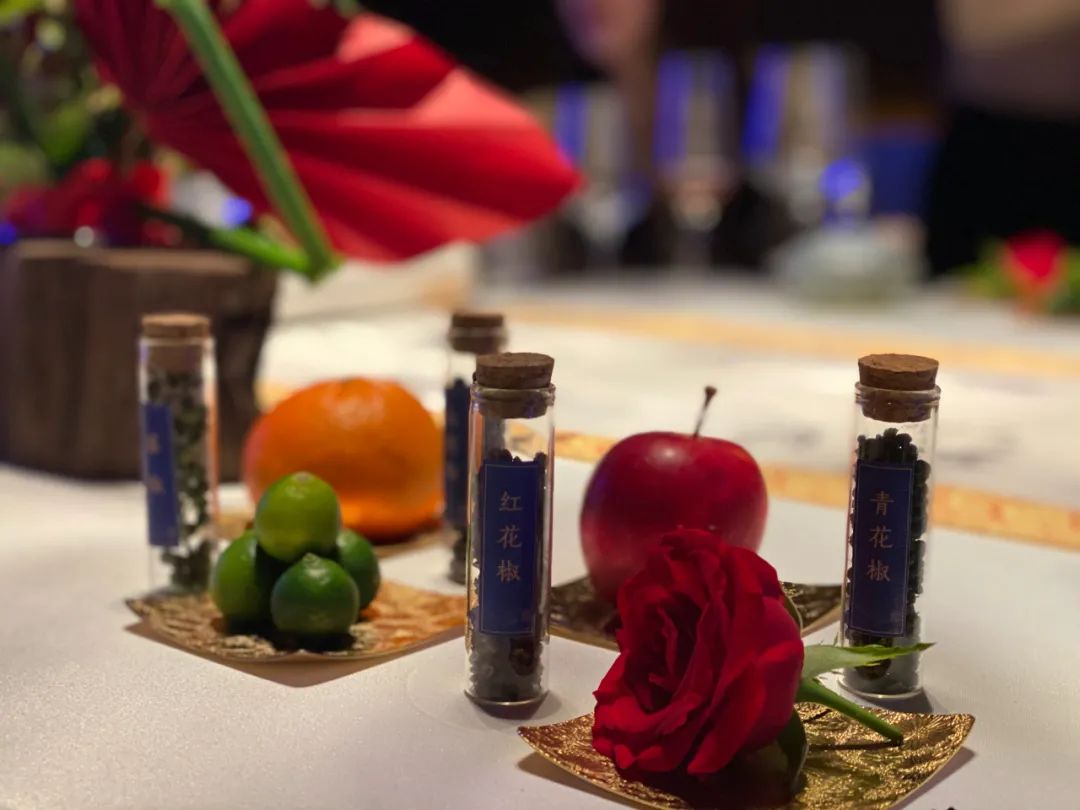 The Sichuan pepper feast is divided into four chapters: fragrance smelling, blending, revel, and returning. In the chapter of blending, one dish is taken as the peerless double pride, with the homophones "Hua Jiao" and "Hua Jiao". Use of New Zealand fish maw, combined with Sichuan's local top-grade Sichuan pepper and green chili, to make creative flavored dishes.
Peerless double pride
Smoky clay pot roasted pigeon with Sichuan pepper leaves
There is a smoky clay pot roasted pigeon with Sichuan pepper leaves. The process is complicated yet fresh in my memory. Put the brine pigeon in a clay pot and place Sichuan pepper leaves and pepper shells underneath. They are roasted together for about one and a half to two hours, and then opened up on the table, allowing you to enjoy both the brine and Sichuan pepper fragrances together.
Zi Ling said: "A small Sichuan pepper has many uses which reflect the wisdom of our ancestors and their ability to apply their knowledge in Chinese culture. The five thousand years of culture is blended. Just like the Sichuan pepper, it bears many fruits, and the taste of Sichuan pepper has a historical outlook. " This meal truly gave me a deeper understanding of Sichuan peppercorns. Every year this season, I should fly to Chengdu get the full tasting experience brought by the Sichuan peppers of each season.
This time I spent two nights in Chengdu, and stayed at The Temple House one night. The room was spacious and elegant, had a mini bar in the room with cellar, equipped with champagne and red and white wines at retail prices. This has always been a detail that people talk about. Interestingly, the Temple House is built along Taikoo Li Shopping Center, and on the other side is the old house complex. These two worlds of conflicting beauty give a unique crossing of old vs new and makes for a very intriguing atmosphere.
The Temple House
The goal of my visit to Chengdu this time was not to snack, nor did I want to pursue restaurants frequently visited and promoted by internet celebrities. What I really wanted to see was the more mature, authentic, and traditional food scene in Chengdu. The Hidden Place, Ruyi Banquet, and the Sichuan pepper banquet at the Silver pot Restaurant gave me a better understanding of the beauty of Chengdu's food culture. Although I have been to Chengdu several times already, I still have that sense of excitement and suspense every time I visit. I was not able to visit other places such as Chengdu Yuzhilan, Song Yunze, which I will just have to leave for next time. With regards to Chinese cuisine, the recent visits have made me feel that I lack knowledge in my industry, and there are too many things that need to be studied and understood. In particular, Chinese cuisine is extensive and profound. It is the epitome of agricultural development in various regions, and it also contains profound cultural and historical origins. There is no limit to learning and I must work harder on the road to fine dining.
The Hidden Place Ttraditional Sichuan Cuisine
📍 1st Floor, Yinlu Hotel, 57 Shengxing Street, Chengdu
☎ 028-65777137;13980691108
Ruyi gastronomy-Family Xu Cuisine
(from November 2019)
📍 Room 605, 6 / F, Renhe Xincheng Shopping Center, No. 505, West Section of Fucheng Avenue, Chengdu
☎ 028-63913306;028-63913308
Silver pot
📍 No.532, 5 / F, Building M6, ICP Office Building, 300 Jiaozi Avenue, Chengdu
转载或其他合作事宜

请联系微信号:tastytrip2020
---
欢迎关注
微博:TastyTrip
Instagram:_tastytrip_