It is said that "GEM GARDEN" is the most beautiful Chinese restaurant in Shenzhen.
Meticulous in Everything
Chaozhou cuisine has over a thousand years of history and milestones in the culinary world.  At the end of the corridor in GEM GARDEN you can see a famous saying by Qing Dynasty writer Yuan Mei that has been written by calligrapher Liu Yan Hu: " Meticulous in everything, especially food."  This saying is said to appropriately portray the people of Chaoshan.
GEM GARDEN aims to inherit a historical heritage of tastes and flavors that reflect its environment and the spirit of Chaozhou, its people and cuisine among this evolution. GEM GARDEN takes an ingredient first approach, with emphasis on seafood, vegetables and fruits. A vast array of seafood is directly collected from Chaoshan wharf. These fresh ingredients are then combined with traditional and delicate cooking techniques such as marinating, poaching, steaming, braising, as well as stir-frying, and then finished off with the appropriate seasoning that enhances the natural flavors of the ingredients.
For Mr. Ma, the founder of the GEM GARDEN Restaurant, Chaozhou cuisine follows a minimalist approach and style, with the principle that less is more. He loves traditional flavors and wanted to have a place where he could eat classic hometown dishes, so naturally opened a Chaozhou restaurant.
I asked Tom, the second-generational owner of GEM GARDEN Restaurant, where the name " GEM GARDEN(Chinese Name: Zhen Ting)  " came from.
He told me: "In 2012, we registered the company name of the first restaurant with "Zhi Ting (Japanese name: Shokutei)", which is my grandfather's name. He died when my father was 7 years old, so it is used to commemorate him. "I already felt very touched when I heard this. The low-key founder, Mr Ma was such a gentleman.
"At the time, Japanese restaurants were thought to need a more oriental style, therefore "Zhi Teng" was chosen as it sounded better. Later, when 'Zhi Ting' was about to open, we had a rethink of the direction and branding we wanted to create and one that would not disappoint, so we named it directly after my grandfather."
Tom mentioned that because " GEM GARDEN" provides Chaozhou cuisine, which is the foundation and roots of his family, they took a letter from his grandmother's name and one from his grandfather. Her grandmother has been a vegetarian for more than 10 years. However, opening a restaurant seemed to violate her religion Buddhism. But we sincerely hope that this brand will become a century-old brand whose origins we will always remember.
I also asked about the uniqueness of GEM GARDEN's cuisine. He told me: " GEM GARDEN's cuisine is traditional. From taste to technique and ingredients, they all follow the traditional Chaozhou cuisine system. Of course, it is not set in concrete, we also have our own innovations, but innovations are more refined based on the original Chaozhou cuisine and pursuit of the highest quality of ingredients. "
Chaoshan cuisine is also regionally dynamic, with Chaozhou, Shantou, Chaoyang, and Puning each having their own unique characteristics that also blends with each other. This has allowed the cuisine to continue to evolve.
" GEM GARDEN " provides a great culinary experience for customers, from the service, wine, environment, presentation, and dining experience, but most importantly the taste must be in line with the local traditional taste of Chaoshan.
The signature Chaozhou dish at GEM GARDEN is none other than their famous "Brine" which is braised in a special sauce. Using a unique secret recipe, GEM GARDEN also offers a host of other unique Chaozhou dishes such as: brine goose head made by 4-year-old lion-head goose with specialized spices, brine boneless goose web, and etc.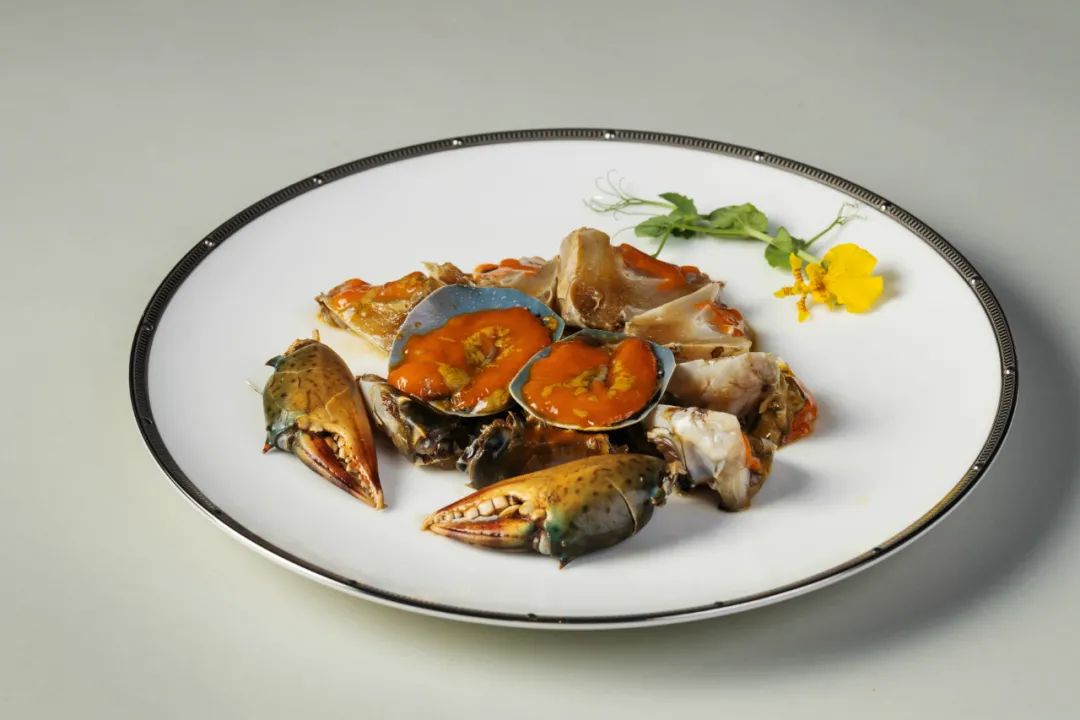 GEM GARDEN has a total of 28 highly talented chefs, all of whom are Chaozhou natives with a traditional Chaozhou cuisine background and each with their own unique culinary skills.
Chef Xu, Zhen-Kun (徐振坤) has more than 30 years of cooking experience and has previously worked for the East Ocean Restaurant at Shantou – the benchmark restaurant for Chaozhou cuisine. He was also the disciple to famous traditional Chaozhou chef Zhong, Cheng-Quan (钟成泉), widely considered as the master chef of Chaozhou cuisine. Chef Chen whom in charge of the chopping station, owns exquisite cutting technique while Chef Sheng has 20 years of experience specializing in Chaozhou Brine and uses his secret recipe in creating the unique seasoning for GEM GARDEN.
  Chao
Deep Fried Pineapple Stuffed with Fish
Chaozhou nine belly fish, also called Tofu fish, is smooth as tofu, with delicate taste and full of moisture. Differ from the traditional presentation, chef of GEM GARDEN combines fish with fresh pineapple sensibly. Crispy fish and golden pineapple bring out the best in each other. The sourness and sweetness tropical fruit blend in the boneless and tasty flesh flawlessly.
Large whelk is the honorable representative dish of Chaozhou cuisine due to its rarity – a 2 kg large whelk takes around 5 years to grow. Grill the large whelk with its shell on the charcoal fire and pour GEM GARDEN's exclusive broth and fried spices. Then add Maotai for seasoning until the sauce is completely absorbed by the whelk meat. Then chef takes out the whelk meat and slice it as soon as possible to ensure its temperature and flavor are well-preserved. The grilled sea whelk is bouncy yet crispy.
Lion-head goose from Chenghai District in Shantou, Guangdong is the largest breed. Elder lion-head goose can be up to 10 kilograms. Made by garlic, ginger, green onion, fresh coriander, and secrete spices, the slow-cooked Chaozhou brine is famous for its thick sauce, dark color, delicate fragrance and salty flavor.
Sugarcane Smoked Pork Belly
There was a dish of sugarcane smoked pork belly that surprised me. The dish looked ordinary but the smoky sweet flavor was layered and perfectly balanced, something that was truly unique.
Tom told me: "Sugar manufacturing has been the main industry in Chaozhou since the Qianlong period, so many delicacies related to cane sugar have derived from this history. In Chaoyang, sugarcane bagasse is used to burn smoked duck breasts, giving it a unique flavor.  It is derived from pork belly, pig scalp, and eel, which are traditionally smoked in wooden barrels. Nowadays, because of industrialization, stainless steel barrels are also used, but "Germ Garden" continues to smoke in traditional wooden barrels.
The most common one is actually smoked duck breasts. " GEM GARDEN " will specifically ask for water ducks in order to make. They should be small in size but soft and tender without any fishy smells. Less commonly used ingredients are the pork belly and pig scalp, which are specially customized by " GEM GARDEN ".
It is quite common to eat pig scalp, but sugarcane smoked pig scalp is relatively rare.
The traditional Chaoshan dessert is that of mashed taro with gingko. Foodie Fei said: "The consistency and sweetness of the gingko needs to be controlled as well as the temperature of the oil. The outer part of the glutinous rice should be crispy and sticky when bitten. If it sticks to your teeth, then the dessert has failed.
The interior of "GEM GARDEN" was designed and constructed by a well-known designer and founder of the horizontal design brand Ju Bin which took nearly a year to complete. His famous works include the Alila Yangshuo Sugar House (now rebranded) as we know it, and the Naera Hotel Xitang which opened last year.
Mr Ma, the founder of GEM GARDEN Restaurant told me that Ju Bin has a deep understanding of tradition and modernity and is able to successfully blend new with old.
With a unique design concept of "heavy yet light; rigid yet soft", a grey and black texture is presented in a transitional space that presents "heavy" elements embodying the weight of past history and the "light" elements connect the past to contemporary art.
The wall next to the main entrance on the first floor is made of concrete blocks and overlapped with bright metal sheets that gives it a distinctive illumination under sunlight. During the evening, the layout and rendering of lights adds a unique visual twist to that of the daytime. At the bottom, there is a glazed glass bowl with water flowing from the top for added ambience.
A transitional space runs through the two-story space, with elements surrounded by a heavy gray-black texture and chopping stone. Each private room is constructed to present a three-dimensional spatial form of contemporary art and uses different colors to highlight different psychological feelings. Each room is a condensed contemporary interpretation of traditional culture with each space having its own individuality.
I walked with excitement around every space where light and shadows intersected, and I suspect for most people it is not easy to realize that this is a Chinese restaurant. However there is no rule that says Chinese restaurants must be excessively bright or must have a standard atmosphere. It was a kind of Zen in the dark, and although I can't describe it, I felt very comfortable.
My favorite among the private rooms was "Ten Yan", which adopts an expressive integration of colored blocks with wood plate embossing to create a unique visual effect of two-dimensional plane and three-dimensional space. Embedded is a piece of traditional Chaoshan wood carving that adds a bit of history into the scenery. It is combined with contemporary situations, and gives people a feeling of travelling through time and space.  A large number of outdoor green landscaping outside the window further adds to its unique characteristics.
The beauty of "GEM GARDEN" lies in the aesthetics of the created space and the delicious food. "Ju Bin has always been able to create a space-like story that seems to show another parallel time and space which is admired.
In the afternoon of the opening day at "GEM GARDEN", I met the founder Mr Ma at the elevator entrance. He said straightforwardly: "I like the interior design here. Let's do in our own way no matter what other people say."
Looking at the light and dark spaces, seemingly like another small universe, who said that this is not the creation of a new pattern?
📍 L239, 1F-2F, One Avenue Center, Futian CBD, Shenzhen
☎ 0755-83266885
转载或其他合作事宜

请联系微信号:tastytrip2020
---
欢迎关注 
微博:TastyTrip
Instagram:_tastytrip_